Scuba dive in Tenerife with professional divers
Explore the underwater volcanic shapes and biodiversity
No diving experience required!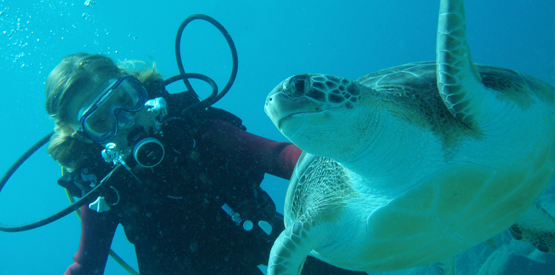 Details
Duration: 2.5 – 3 hours
Location: Puerto Colón, Escuela Náutica, pantalan 5-6
* Please arrive 30 min before the tour starts
Book now
About Try dive
It includes theory lesson, in the classroom for 15 minutes, where you will learn basics of diving.
We will provide you with all necessary diving equipment and insurance. Our boat (a diving boat 7.50 mt, 225 hp, 10 passenger) will take you to a small harbour called "El Puertito de Armeñime", a very beautiful bay where we can find many species of marine fauna (barracuda, sting ray, trumpet fish, starfish, sea horse, anemone, octopus and many more).
This is also one of the few places in the world where you can see a group of very friendly sea turtles (loggerhead turtles with the size ranging from 70 cm up to 1,5 meter in diameter) at the depth of only 7-8 meters.
The dive will last about 25 -30 min and, at all times, our instructors will be supervising the clients (maximum 2 divers per instructor)
At the end of the dive, a CD containing pictures and videos of the excursion will be available at the price of 15 euro each.