Welcome to Water Sports Tenerife
Dont' hesitate to visit us, you'll have much fun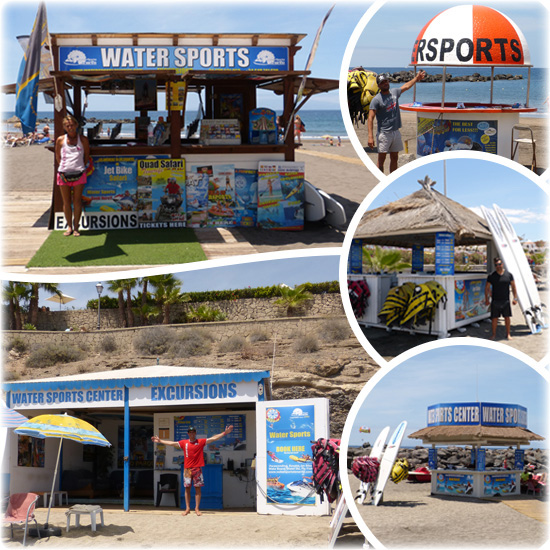 Tenerife's legendary sea and water excursion center right in the heart of Puerto Colon, in the bustling Las Americas area. With a history of over 25 years and several thousand happy excursionists, Tenerife Water Sports is your one-stop excursion center for all your recreational activities at sea, whether an adrenaline-packed jet bike safari or a laid-back sailboat cruise with dolphins, whales and wildlife.
Tenerife Water Sports started as a jet ski rental and excursion company in Las Vistas beach – Los Cristianos, in the gorgeous and sunny south of Tenerife. Accompanying clients of all ages and levels of experience to discover the secrets of the waters surrounding the island has always been our passion. We do this with knowledge and total commitment; this is how we became Tenerife's leading company in sea excursions and water sports.
Find your water sports and excursion center in Tenerife South
Water Sports Tenerife counts several offices on the island's most beautiful beaches and a team of navigated multilingual professionals committed to making your holiday excursions unforgettable. You'll always be able to find one of our excursion centers close to your hotel, with passionate guides fluent in several languages and beautiful sea activities to share with your family and loved ones or to enjoy on your own.
Jet ski safaris, sea excursions and other adventures at sea
As seafaring experts, it's our mission to provide you with the best and most exciting things to do out in the ocean. Feel free to browse through our catalogue; we're sure you'll find the perfect excursion for you. Some of the most popular activities among our clients are the iconic Jet Bike Safari to the majestic cliffs of Los Gigantes, Parascending – for a panoramic aerial view of the coast of Tenerife, and the luxurious day cruise on board the Opera 60 motor yacht.
That's not all. Dare to take a gliding ride on the Fly Fish – guaranteed fun for young and grownups. Test your skills with the unique Fly Board experience, or embark on a pedal boat for a lazy, slow ride kissed by the sun. You can also rent a Zodiac to explore the coast at your pace, in total privacy. And, for all wildlife enthusiasts, we offer unique whale-watching tours. Get ready for a close encounter with the kings and queens of the ocean – dolphins and whales, on board a stylish vessel from our impressive fleet of sailboats and motor yachts.
Private tours, boat and jet ski rentals, group excursions and more
We're waiting for you to come and join us for some pleasant activities at sea, alone, with your partner, or with family and friends. We'd love to help you organize an exciting holiday – contact us in case of private parties for groups, stag and hen parties, or any other special occasion. We offer group excursions or private excursions adjusted to your schedule. Our full days at sea include delicious meals to accommodate all dietary needs, complete with the drinks for the day.
We'd love to hear from you. Please browse our excursions catalogue, where you'll find detailed information about each activity. Shoot us an email if you have questions; we'd be glad to assist you in any way we can.
See you soon in Tenerife!
Remember to get your 10% discount buying online
You can also buy a coupon so you can redeem it later on with our activities
Buy a coupon