Ticket Prices
Adults: 38 €
Children (6 to 11 years): 26,00 €
Kids (0 to 5 years): free
Twin Ticket Prices
Siam Park + Loro Parque
Adults: 66 €
Children (6 to 11 years): 45,50 €
Book now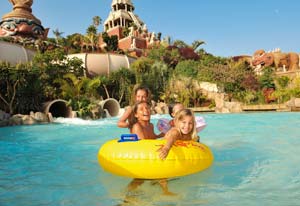 Siam Park adds a whole new dimension to the leisure offering in the Canary Islands and will amaze everyone by rewriting the definition of a water park!
It is one of the biggest themed aquatic park in the whole of Europe, with the most up-to- date and exciting attractions, created with a touch of magic and stunning scenery, and all completed to the very highest standards.
A unique concept, exotic settings, natural landscapes and the exquisite oriental design make it a major new development in tourism, to experience adventure, excitement and plenty of adrenalin.
For rest and relaxation, Siam Park offers a wide range of options with its white sandy beach, stunning views, sub tropical gardens and a relaxing journey along the crystal clear waters of the tropical river.
Ticket Prices
Adults: 38 €
Children (6 to 11 years): 26,00 €
Kids (0 to 5 years): free
Twin Ticket Prices
Loro Parque + Siam Park
Adults: 66 €
Children (6 to 11 years): 45,50 €
Book now
Loro Parque (Spanish for "parrot park") is a zoo located on the outskirts of Puerto de la Cruz on Tenerife.
Since 1972 when it opened at the size of 13,000m2 with a mere 150 parrots it has grown to 300 species and sub-species, making 3,000 in total, (700 of which are located in the park) and a vast 135,000m2.
This collection is claimed to be the largest in the world. Also, on the subject of records, the park has: Europe's largest dolphin show pool, the world's largest indoor penguin exhibition, the longest shark tunnel in Europe, the largest Thai village outside Thailand, and is the only place in Europe to feature an Orca Ocean.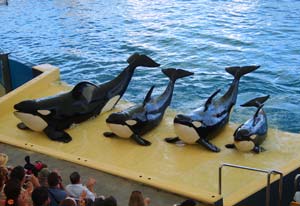 Ticket Prices
Adults (from 13 years old): €25
Children 5 to 10 years old: €17.50
Children 3 to 4 years old: €8
Baby 0 to 2 years old: Free
Two Parks Ticket
Aqualand Costa Adeje
+ Jungle Park.
Adults (from 13 years old): €36
Children 5 to 10 years old: €26
Children 3 to 4 years old: €8
Baby 0 to 2 years old: Free
Book now
Aqualand Costa Adeje makes up an excellent combined leisure and entertainment offer. This is the only Water park and Dolphinarium in Tenerife and is situated in one of the most tropical tourist destinations of the island.
The smart and loving Dolphins are the stars of the park. Their internationally famous exhibition will amaze you. The park has 14 Bottlenose Dolphins, 10 of which were born at our park facilities
The water attraction that has taken some Eruopean water parks into a new era has finally arrived to Tenerife: tornado. Experience a breath-taking descent followed by many turns inside the bowl, faster than you have ever seen.