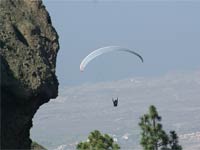 Details
Schedule: To agree
Departs: Every day (depending on weather)
Duration: From 20 to 25 minutos
Location: Taucho (Adeje), 800 mts high
Reserve now
Learn to Paraglide
We have Paraglide for more than fifteen years and even for us it is impossible to describe in words the feeling it's like to practice free flight.
They are of incomparable beauty breathtaking views of the Barranco del Infierno in Adeje, fly over the Grand Roque del Conde in Arona or soft landing on Playa de las Americas at the end of the afternoon.
The tandem paragliding flight is perfect to complete an exciting adventure holiday and to feel intense emotions.
It is also the solution for learning and introduction to free flight. We fly almost every day of the year. Here in Tenerife the weather is incredible as almost the entire year is "spring".